Soliton are experts in mobile H.265/ HEVC live streaming over 3G/4G networks, setting new standards in performance, quality and reliability.
SYDNEY, Australia, July 21, 2016 - Soliton Systems, creators of the world's first mobile H.265 HEVC live streaming and video contribution over 3G/4G networks, has partnered with Redwood's Technology Solutions, a leading manufacturers' Rep and technology specialist, to launch Soliton's Smart-telecaster Zao to the Australian and New Zealand market.
Soliton is set to revolutionise the sports streaming, remote news gathering and public safety markets. Smart-telecaster Zao's award winning mobile H.265/HEVC hardware encoder delivers full HD quality with at least 50% more efficiency in carrier bandwidth usage compared to traditional H.264 solutions. Made in Japan to the highest quality standards, Zao has dramatically reduced power consumption to maintain higher on-the-spot usability, thereby raising the bar for state-of-the-art transmission.
Smart-telecaster ZAO is the worlds' first H.265/HEVC mobile solution enabling improved picture quality at low bitrates via a generic public wireless network, said Brad Redwood from Redwood's Technology.
It is a competitive market, but Zao's unique benefits makes it a clear and real winner for our customers' live events - the future is very exciting for us both!
Coupled with Soliton's RASCOW bonded technology Smart-telecaster guarantees HD quality even in low 3G or 4G bandwidth environments. RASCOW is a protocol developed by Soliton to automatically balance the load between various network base stations during live broadcasting. This allows unprecedented stability in video transmission, even under network congestion or weak network signals. The 4G Bonding algorithm has been dramatically improved compared to the traditional 4G bonding systems. The overall result is high image quality, with less latency and optimal audio quality. It is even possible to have 2-way communication between the camera team and the home base editorial people with minor delay via the Zao.
"Soliton is thrilled to be working with Redwood's", comments Shwetank Bharati, Sales Manager, Soliton Systems APAC. "Our flagship Zao product truly shines with the inclusion of the H.265/HEVC video compression standard that produces crisp on-location live video reports during crisis and mission-critical events. As a consequence we have a very unique selling proposition".
Due to its lightweight and portability, the Zao can be carried either in a small backpack or can be mounted on a camera or drone for connection via HD-SDI or HDMI to the camera. Zao supports 3G, 4G, LTE, WiMAX, Inmarsat BGAN, Wi-Fi, and wired LAN.
Redwood's will demonstrate the capabilities of Smart-telecaster Zao at The Star Hotel Pyrmont, on Wednesday 10th or Thursday 11th August between 10am and 7pm - call 0417483299 for directions to our demo Suite.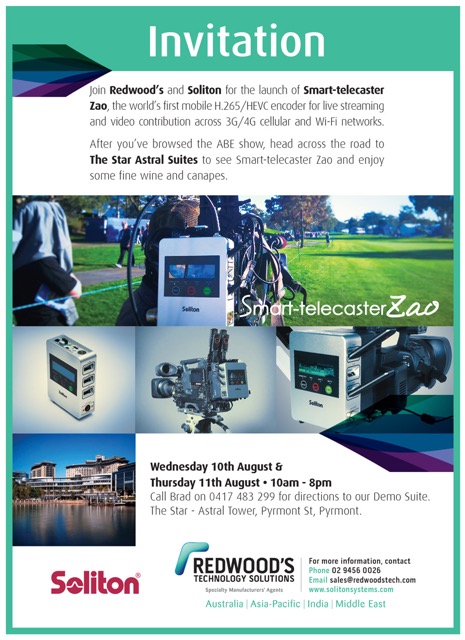 About Soliton Systems
Soliton manufacture a range of mobile video streaming, video encoding and security products. Its flagship product, the Smart-telecaster ZAO, is in use by range of global broadcasters, news and sport production companies, and emergency service providers. Soliton has pioneered IT security solutions for protecting company data from external IT security threats, and more recently delivered the first mobile H265 HEVC solution for the live broadcasting market. Soliton continues to innovate in many markets and our products continue to grow and innovate with a strong emphasis on Research & Development to serve an ever-changing world. Headquartered in Tokyo, Japan our current CEO and founder, Dr. Nobuo Kamata has been a technology-oriented leader and pioneer for over 30 years. www.solitonsystems.com
About Redwood's Technology Solutions
With over thirty years' in the broadcast industry working with production, television and new media, Redwood's represent professional products from specialty manufacturers that power our customers' content. Redwood's are responsible for establishing and maintaining sales, service and distribution channels in the Australian, New Zealand, Asia-Pacific, Indian and Middle East regions. Along with our partners, our services range from consulting through to the supply, installation and support of our solutions. www.redwoodstech.com
All trademarks appearing herein are the property of their respective owners.