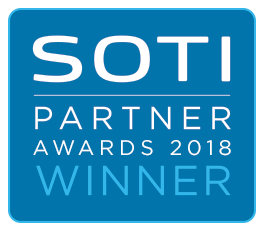 Dublin, Ireland, October 3, 2018 - SOTI awards Soliton Systems K.K. with the 2018 Cloud Partner of the Year at the SOTI Sync Customer and Partner Conference. Soliton was one of the 11 top channel performers honoured with awards at the historical Guinness Storehouse.
The SOTI Altitude Partner Awards enables channel partners to create differentiated solutions based on SOTI's advanced technology and two-decade pedigree in managing and enabling advanced mobility strategies.
In 2017 Soliton Systems K.K. was the only Asia Pacific company among the winners, taking home the award for Reseller of the Year for APAC. This year SOTI Inc. again recognized Soliton as an industry leader being awarded the most successful Cloud partner of the Year 2018.
About Soliton Systems
Soliton Systems, headquartered in Japan with offices in Europe, USA and China, supports companies with their security management challenges, including network security and mobile access to the internal and cloud applications. Soliton's solutions reduce the complexity of IT security management whilst protecting the company network and data from unauthorized access and data leakage. The easy deployment of Soliton's solutions immediately results in efficient management, overall cost reduction and increased security.
About SOTI Inc.
SOTI is the world's most trusted provider of mobile and IoT device management solutions, with more than 17,000 enterprise customers and millions of devices managed worldwide. SOTI's innovative portfolio of solutions and services provide the tools organizations need to truly mobilize their operations and optimize their mobility investments. SOTI extends secure mobile mobility management to provide a total, flexible solution for comprehensive management and security of all mobile devices and connected peripherals deployed in an organisation.
Soliton Systems Media Contact:
Tirtza Richartz
Soliton Systems N.V.
Gustav Mahlerplein 2
1082 MA Amsterdam
Netherlands.
Tel +31 (0) 20 301 21 66
mailto:tirtza.richartz@solitonsystems.com