Amsterdam, Netherlands – 19 February 2019 – Soliton Systems, a Japanese technology company specialising in secure live streaming and IT Security, is continuing its successful expansion into Europe with the announcement of a major partnership for Benelux with TranzCom, a brand of VINCI Energies Belgium.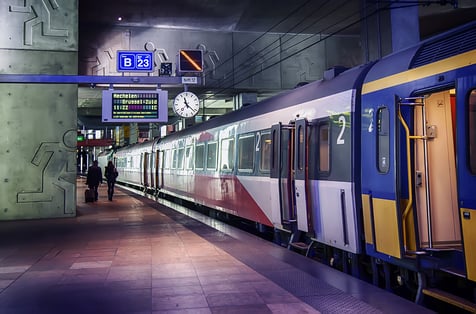 Headquartered in Brussels, TranzCom is a System Integrator specialised in secure communications for critical public safety workers with customers that include emergency responders, law enforcement organisations and public transport companies.
The partnership with Soliton allows TranzCom to increase its product offerings with the Smart Telecaster range of "Zao" products. The Zao products allow public safety operatives, including emergency services or transport orkers, to live stream video from mobile locations such as body cams, vehicles, drones or mobile surveillance cameras. In addition, they recently developed an android app that provides encrypted live streaming from a mobile phone and that recently won an Airbus Critical App award.
As the solutions are ONVIF compliant, encrypted live video can be streamed to a command and control room.
The Zao system operates by encoding the video to the latest compression standard of H.265, sometimes known as HEVC, and has the ability to live stream over multiple mobile 3G or 4G networks simultaneously. By using H.265/HEVC as a compression standard, the Zao products are 50% more efficient than traditional H.264 encoders. By using multiple 4G connections, they provide high reliability, even in areas with weak signal or that are congested with many users, though they can also be used with satellite and/or Wifi connectivity.
"Given TranzCom's reputation in the secure communications market, we are deeply honoured to have them represent us in the Benelux region", commented Mark Andrews, Sales Director of Soliton Systems Europe. "We have a natural fit with some of the same customers and partners. By using their enviable experience to help build solutions for their customers, we look forward to growing our business with TranzCom by increasing public safety with the use of mobile live video solutions"
Frederic Devisch, Business Unit Manager for TranzCom adds:
"As one of the leading providers of secure communications for the Benelux market, we are now seeing live video as a major part of communications needed to help and secure emergency workers in their roles in the front line of Public Safety"
The Zao solutions can be used in a variety of applications from tactical operations to covert operations. TranzCom can provide Zao-S demo units for evaluation and can give more information about the Soliton range of mobile live streaming products, including the encrypted live streaming solution of the new Airbus Tactilon Dabat device.
About Soliton Systems:
Soliton Systems, headquartered in Japan with offices in Europe, USA and China, manufacture a range of mobile video streaming, video encoding and security products. Their flagship product, the Zao Smart Telecaster, is in use by a range of global emergency service providers and broadcasters for secure live streaming of video from remote and mobile locations.
About TranzCom:
TranzCom, a brand of VINCI Energies Belgium, is active in telecommunication and energy distribution. It is a provider of solutions in telecommunications and a producer and integrator of electrical equipment. As value added integrator delivering tailor-made solutions and services, the company provides solutions encompassing: radio infrastructure (TETRA, DMR, etc.) and applications (GPS, AVL, etc.); in-vehicle embarked radio and voice solutions (TETRA, DMR, 4G, etc.); voice infrastructure and applications (call centre, unified messaging, etc.); dispatching infrastructure and applications (e.g. localisation software), passenger information systems. With over 100 employees working in the departments 'Telecommunication' and 'Energy Distribution', www.tranzcom.com
About VINCI Energies in Belgium
In Belgium, VINCI Energies is active in industrial automation, energy-, transport- and communication infrastructures, building techniques, fire protection and facility services through the brands Actemium, Axians, Cegelec, Omexom, TranzCom and VINCI Facilities, as well as through some local brands. The group employs 2.450 collaborators and represented a turnover of 435 million € in 2017.
Soliton Systems Media Contact:
Anita Ghosh
Soliton Systems NV
Gustav Mahlerplein 2
1082MA Amsterdam
Netherlands
Tel +31 (0) 20 301 21 66
anita.ghosh@solitonsystems.com.