Live Video Streaming from Drones

Drones provide a mechanism for streaming compelling video that other methods cannot compete with either from an infrastructure or cost prospective.
Whether it is used in broadcasting for sports or other aerial views, or for public safety to monitor crowds or in other civil emergencies, often the footage is required in real-time to provide up-to-the-second footage of unfolding events from a unique position that is not available to people on the ground.
For broadcasting the footage can be so fascinating, for public safety it can be lifesaving. Either way, a reliable and cost-effective method for delivering real -time video footage is indispensable.
This is where the Soliton Zao-S can reign supreme.
Typically drones with an on-board camera provide a Wi-Fi link to a base station near-by. Recent testing has shown this works very well and from the download link it is then possible to connect the output of the Wi-Fi base station to a Zao or Zao-S and then live-stream over multiple "bonded" 4G telco mobile phone signals, via dongles, fitted with SIM cards. With the Zao-S, the video feed from the camera is encoded to H265 and streamed back to any internet connected server in the world that can decode back to the original video signal – all with very low latency typically two to three seconds later.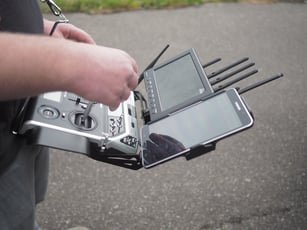 However given the small size of the Zao-S and its H265 capabilities, another option has recently become available and only available via Soliton.
Tiny HEVC encoder for your drone
The Zao-S is a light weight encoder that weighs only 400 grams including its own internal battery. It is possible to mount the Zao-S in the drone with an onboard camera, and from within the drone, it can live stream video to anywhere in the world. And this is high quality HD video that will not deteriorate as the drone moves further away, as other streaming systems suffer from. The Zao-s does not need necessarily need Wi-Fi or a base station.
This has the added advantage that the drone can travel much further distances without concerns for losing Wi-Fi, especially if the drone is on an automated pre-planned trajectory path that may go quite a few kilometres. Also given that it streams directly back to a command centre for example, the latency can be very low, typically between half and one second.
Long Distance Drone Travelling with video streaming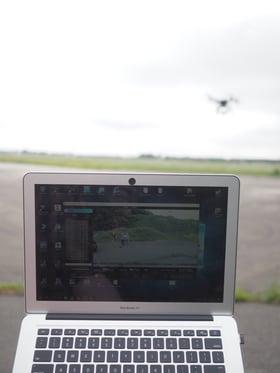 Drone video streaming has never been more reliable for the broadcaster or for public safety applications that includes police, fire departments and even for military applications where drones need to be flown long distances. The Zao-S can use multiple 3G or 4G LTE mobile cellular networks to stream video. In the event that one of the cellular signals disappears, the Zao-S will automatically compensate. It is designed for reliability. Also by using the latest H.265 HEVC compression algorithm, as oppose to the older H.264 encoding algorithm, it needs less bandwidth and less bitrate to maintain delivering good quality HD video.
By programming the Zao-S on the live streaming drone with a global IP address, it can stream to a control room anywhere very quickly with very low delay.
The Zao-S is very secure and can support full AES256 encryption making it ideal for many law enforcement, public safety and military applications where security is an issue.
For broadcasters, the video streaming drone simply provides beautiful content from any live event or music concert, reliably, quickly and cost effectively that can be broadcast as part of any live event programme and/or via social media using IP (RTMP) vide streaming.
Contact us now for more information on how Soliton's Smart Telecaster range of products can help in your drone applications for cost effective and highly reliable video contribution.
Mobile live broadcasting solutions
Lightweight, easy to use mobile live broadcasting products that enable broadcasters and public safety companies to transmit and contribute high quality streaming video via 3G, 4G and Wi-Fi networks from remote locations without the need of traditional satellite technology. Ideal for live sport events, news gathering and public safety.