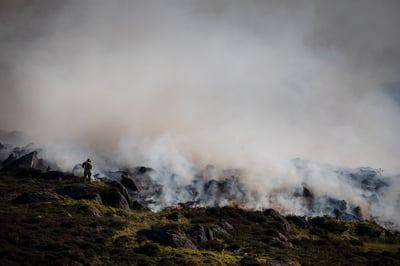 The recent wild fires in Saddleworth Moor in the UK and the more recent absolutely heart-breaking events in the Mediterranean are pushing the emergency services to the maximum of their capabilities. The ease at which a wild fire can start and then rage out-of-control with wind being a major factor, makes them difficult to contain and ultimately extinguish. Due to the current prolonged heat wave, many countries are currently on red alert and a major incident is a tinder box just waiting for a spark to create another tragedy and loss of life. There is thinking that global warming caused by climate change is increasing forest fires around the world and so the problem is only likely to increase.
What can drone technology do to help?
The recent Saddleworth moor disaster allowed drones to capture video footage of the vast moorland blaze that appeared on the BBC News website. However, this is merely giving a news worthy look of the issue and perhaps at best making the public aware of the dangers and the ease of which fires can be accidentally started. One recent drone company I spoke to equated it to the equivalent of "rubber necking" at an accident on the motorway.
Could drone technology be put to better use with the emergency services?
"Yes" says Roland Dangerfield of Sentinel Aviation whose company supports an array of emergency services with their drone services.
By live streaming from a drone, we can get an immediate real-time view of what is going on" says Dangerfield. "We use the Soliton Zao-S technology to live stream reliably over multiple 4G connections which has a very low latency. Given that wild fires can change direction in the blink of an eye, the live streaming capability allows us to direct emergency resources to the most optimum location and visually show the extent of the issues in absolute real-time. It can also high light potential danger hot spots as well as highlighting trapped people or animals that are in imminent danger. We can live stream back to a command centre, and to the smartphones or tablets of emergency responders that are in the operational vicinity.
The Zao-S can be connected to the ground base station of the drone. It has two purposes – one as an H265 encoder to compress the video using the latest video techniques. But it can also bond as a single connection up to 3 simultaneous SIM cards from 3 different network providers. On somewhere like Saddleworth moor where 4G connection may be weak, by combining all the telco network providers mitigates the risk of relying on one provider and thus massively increase reliability when live streaming HD video back to a command centre.
The Zao-S also allows encryption, but it is also ONVIF compliant which allows it to connect to many Video management Systems (VMS) such as those from Milestone Systems that is in use by many law enforcement and emergency operators across the globe within their command centres. From here resource on the ground can be directed or informed decisions can be made to allocate more resource as required.
Though the UK does not have fire fighter tanker planes for dropping massive amounts of water or fire retardant from height, they are in use by many other countries. It would be easier to direct resources on the ground if the people directing the dropping of the water has the same aerial view of the pilots. By being able to direct the pilots in a fast moving and ever-changing environment, it may be better to dump the water just ahead of the fire storm which may have a better effect on controlling the blaze and saving lives. This can be more easily done in real time and seen from a height to understand the issues at hand.
Drone technology can also be used to carry thermal caRemote Operation of Drones Beyond Sightmeras, which can be live streamed in the same way, and they are also currently in use by law enforcement agencies where they are on the lookout and hunting the arsonists who are deliberately starting some of these fires. Real time video streaming to an emergency control room, with the ability to display GPS targeted live video streaming on a map on a big display, massively increases efficiencies by being able to easily direct resource to the right place at the right time.
More information on Live Streaming with Drones can be found here.
More Information on Sentinel Aviation drone consultancy services can be found here.