Live Video Streaming from Drones

Law Enforcement use of drones provide a mechanism for live streaming life-saving video from an eye-in-the-sky that previously was achieved only through the use of helicopters. The operation of drones is a fraction of the cost of helicopters and they can also take advantage of 4G and 5G cellular connectivity, allowing the drone a cost-effective secure live stream back to a command and control center. Helicopters use expensive line-of-sight RF connectivity for live streaming.
Drones can be utilized for public safety to monitor crowds or other civil emergencies including mountain rescue, fire services, lost people search and border control. The footage is required is in real-time to provide up-to-the-second footage of unfolding events from a unique position that is not available to people on the ground. But for operational decision making on live video, the latency on the on the live stream from the drone must be in almost real-time. Even a second delay can be too long. The live stream also needs to be encrypted, especially if live streaming over the public cellular mobile phone 3G/4G/5G network infrastructure.
For broadcasting programs such as TV documentaries, the footage can be so fascinating, but for public safety it can be lifesaving. Either way, a reliable and cost-effective method for delivering encrypted real-time video footage is indispensable which as an option that can be added to drones, including beyond visual line of sight (BVLOS) drone operations and standard models such as DJI drones.
This is where the Soliton Zao-X can reign supreme.
Typically drones with an on-board camera provide a Wi-Fi link to a base station near-by. Recent testing has shown this works very well and from the download link it is then possible to connect the output of the Wi-Fi base station to a Zao-X and then live-stream over multiple "bonded" 4G and 5G telco mobile phone signals. With the Zao-X, the video feed from the camera is encoded to H265 and streamed back to any internet connected server in the world that can decode back to the original video signal – all with ultra low latency. Zao-X is specified at providing glass-to-glass latencies of 65ms over 4G. This is the fastest video encoder over 4G in the world where most competitive models will have latencies of over a second. This is too long for many police and law enforcement live streaming initiatives for operational decision making.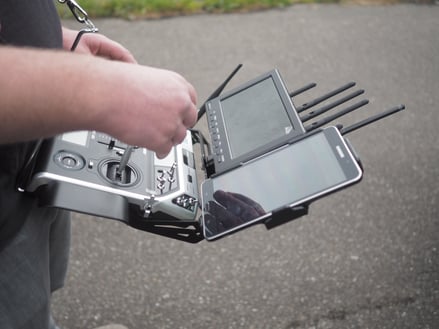 However given the small size of the Zao-X and its H.265 capabilities, another option has recently become available and only available via Soliton.
The solution - tiny HEVC encoder for your drone
The Zao-X is a new encoder as of April 2022, that can be mounted on the drone with an onboard camera enabling it to live stream HD or 4K video to anywhere in the world.
This has the added advantage that the drone can travel much further distances without concerns for losing Wi-Fi, especially if the drone is on an automated pre-planned trajectory or utilizing BVLOS technology for remote operation. It streams directly back to a command & control center for example, the latency can be very low, typically below a ground breaking 100ms.
Live Streaming for Drone Manufacturers
The technology behind the Zao-X will soon be available for OEM. Known as the RASCOW2 software library, it allows manufacturers to OEM the ultra low latency encoding functionality but within their own hardware.
Long Distance Drone Operation with video streaming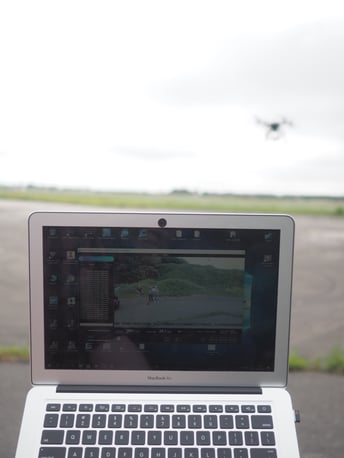 Drone video streaming has never been more reliable for the broadcaster or for public safety applications that includes police, fire departments and even for military applications where drones need to be flown long distances. The Zao-X can use multiple 3G, 4G LTE mobile or 5G cellular networks to stream video. In the event that one of the cellular signals disappears, the Zao-X will automatically compensate. It is designed for reliability. Also by using the latest H.265 HEVC compression algorithm, as oppose to the older H.264 encoding algorithm, it needs less bandwidth and less bitrate to maintain high performing video quality.
The Zao-S is very secure and can support full AES256 encryption making it ideal for many law enforcement, public safety and military applications where security is an issue.
Contact us for more information on how Soliton's Smart Telecaster range of products can help in your drone applications for cost effective and highly reliable video contribution.
Mobile live broadcasting solutions

Lightweight, easy to use mobile live broadcasting products that enable broadcasters and public safety companies to transmit and contribute high quality streaming video via 3G, 4G 5G, Satellite and Wi-Fi networks from remote locations Ideal for law enforcement, live sport events, news gathering, defense, emergency responders and public safety.