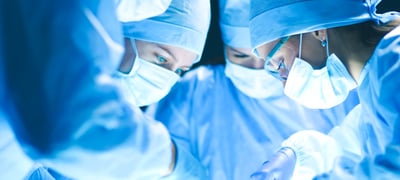 From live streaming surgery for education and research to saving lives by first responders out in the field, live video can provide valuable insight, education and lifesaving images. Sharing video across global medical professionals helps in providing cures, reassures relatives and helps prevent loss of life where doctors cannot physically get to patients.
For medical training purposes and for sharing information between contemporaries, a live surgical or medical procedure especially if its ground breaking, will often be recorded, live streamed and viewed between different organizations for instant review. One such example is the University of Oklahoma College of Medicine who do regular broadcasts with medical experts on OU Medicine Live, a live streaming channel whose narrative on health and wellness permits viewers to propose questions in real time. This broadcast scenario is repeated many times over with different medical organizations and experts for sharing and collaboration purposes.
Live streaming has also been used as a tool in children's hospital to reassure parents on procedures with feedback saying the video influenced their decision to go through with the procedure. They provide the ability for parents to ask the surgical coordinator an array of questions in real time from insurance coverage to what the recovery times entail.
In addition, emergency responders, paramedics and civil rescue teams can benefit from the advice of remote doctors and medical professionals. Audio conversation can only give half the story, if a live video stream can be performed from an outside location, often from a remote or hostile place, a live stream showing the condition of the patient in the flesh can enormously help the remote doctors in diagnosing and offering treatment for paramedics and rescue teams on the ground.
How to live stream for medical professionals?
Within a surgical theatre, a multi-camera set up with a camera on a boom is recommended. In the field where mobility is key, then a lightweight action camera, such as a GoPro is recommended. One main issue in both scenarios' is transmission. With the use of HD high quality video which results in high bandwidth needs, reliability is key where dropped frames must not happen. But most of all very low latency, that is the delay from the camera to the remote diagnosing location, is also a mandatory requirement to be small.
The Zao-SH is a product from Soliton Systems that has been designed for television broadcast such as those for news and sports, but is often used by law enforcement agencies for mobile surveillance and evidence gathering. They have also proved themselves ideal for medical broadcasts where a live stream can be achieved over various network mediums including a hard wired LAN, Wi-Fi, multiple 4G/5G and/or satellite. It utilizes the latest H.265 HEVC technology for compressing video without loss of quality, and can send an encrypted live stream to anywhere in the world with a very low latency of less than a 100ms.
For a surgical theater, the Zao-SH can connect to a LAN port or Wi-Fi, but out in the field, this miniature encoder, weighing only 400grams with an internal battery, can live stream over multiple 4G connections from different providers to create a very sturdy and reliable connection. It can live stream full HD video and audio back to a control center or hospital for viewing in real time, again with a very low latency from a small camera such as a GoPro, making it ideal as a very mobile set-up for carrying across distances.
The Zao-SH can also be utilized with drones for live streaming.
At the receiving end live video can be shown on a monitor and can be recorded. The stream can be sent directly without the need for a third party cloud service, which may have security issues, and the stream can be fully encrypted. The receiving video stream can be viewed with an existing Video Management System, can be used with a decoder to provide a baseband HD-SDI stream, or just displayed on a browser with standard video display viewer such as VLC using an IP stream.
Soliton Systems also offers a range of mobile Smartphone Apps that an also be used to live stream from the phone camera and can support both iOS and Android which can be used as an alternative by a range of medical professionals for live streaming video securely and reliably.
If you require further information then please contact Soliton Systems for more information.