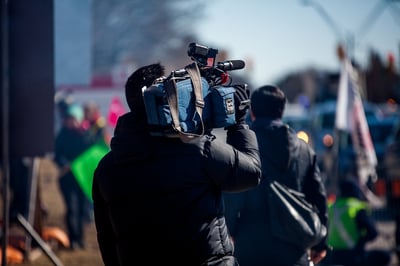 Video streaming is quite bandwidth intensive and it was always difficult to stream and broadcast live events over the cellular network with 3G live streaming or 4G (LTE) live streaming techniques without good compression and good signal strength. Currently H.264 is widely adopted as an encoding (compression) standard, but H.265, also known as HEVC, is coming of age.
Live Events over 3G or 4G
Sports, news and other live events are often in remote places and traditionally satellite systems (KSAT and KBAN) was a mechanism of video contribution from these locations, mainly via an OB (Outside Broadcast) truck, to deliver live events back to a broadcasting centre for immediate playout.
Live Video over 3G, or 4G live streaming is not new, and is now gaining popularity due to its cost savings. Reliability was always an issue, especially if there were many people accessing the mobile phone network such as in a stadium, but with H.265 (HEVC) compressions this has had the desired benefit of reducing the bitrate need required for live video, and so improved reliability while maintaining picture quality.
3G Live Streaming and 4G streaming, or LTE video streaming, can use a multitude of SIMS cards from different telco providers and these can be bonded together to form a single transmission pipe for video streaming. It is very reliable, even in moving vehicles such as a car, motorbike or helicopter, where mobile or cellular signal strengths can go up and down in real time.
OB Trucks and satellite services
Outside Broadcast trucks are still very much in use and will often provide editing and slow motion playback facilities, but typically using satellite services as a transmission mechanism. But given that a centralised broadcast centre with its permanent ingest facility, fixed resources and existing staff, is easier from an operational point-of-view, so bonded Live TV 4G and LTE solutions are becoming more adopted as an operational alternative to OB trucks.
H265 HEVC Encoding
HEVC / H.265 gives a 50% more compression efficiency over H.264 thus for 4g streaming, it will become a defacto streaming mechanism for video contribution where fixed line internet is not easily available, as well as a potential replacement for OB Trucks and their satellite infrastructure.
Using the mobile phone network has allowed live TV to be broadcast over 3G and 4G networks but with video contribution, it has now become the upload mechanism for delivering broadcast quality video direct from the camera within a small encoding box and multiple SIM cards.
Live Streaming with 5G
The future? Some claim 5G networks will give up to a 1000 times better through put than 4G which on the face of it, will make it a super reliable transmission medium for the live video streaming. However history tells us when the road doubles in size, then traffic evolves to fill it. However it will open the road for 4K and 8K video streaming that requires 4x and 8x the bandwidth, and these formats are now starting to become more heavily adopted. This will also mean more IP streaming instead of baseband (HD-SDI) so different encoding and SIM bonding techniques will be evolved as more open standards, especially around IP, are being agreed and adopted by the main vendor community.