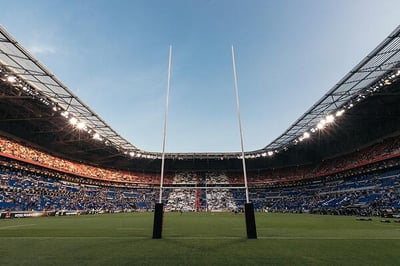 The Rugby Wold Cup (RWC) will broadcast 48 matches across 12 venues across Japan starting on the 20th September through to the 2nd November 2019. Hosted once every four years, running alternatively with the Women's RWC in 2021, the Rugby World Cup is rugby's centrepiece global event. Held over the course of seven weeks, it is the third largest sports event in the world after the summer Olympics and the Football World Cup.
As Japanese company, Soliton Systems will be providing a full rental service of their H.265 mobile encoders for use for outside broadcasting. The Zao units can live stream over multiple bonded 4G, Wi-Fi, LAN or satellite connections. For 4G, Soliton will also provide a full mix of different 4G providers as SIM cards for maximum resilience and coverage.
There will be broadcasting challenges to ensure high-quality live broadcasting, from far-reaching locations in quick succession, often in crowded or congested networks.
The Growth of Rugby in Asia
With one year to go, the Asia 1 million legacy project has already attracted 900,000 new players across Asia. These new rugby players will contribute to the viewing figures as over one million additional players are introduced to Rugby across Asia.
The interest around the RWC is already starting as they have announced the pools for the 20 participating teams and the ticket general ballot application is open until the 12th November 2018.
The twelve host cities will be wanting to make this an unforgettable global event. They have launched the new RWC logo which integrates the rising sun and Mt. Fuji, with the World Rugby logo, also represents Japan and the world coming together in the name of rugby. Clip editors and filmmakers will be busy compiling more stock footage of Mt. Fuji and other Japanese cultural heritages. Expect these to be used as trailers and promotions as highlights for both the RWC and the Japanese hosted Olympics in 2020.
Soliton Systems proved their mettle at the Rio Olympics in 2016, by ensuring that major broadcasters could transmit their encoded broadcasts in high-quality transmissions, with minimal latency and full HD.
If you are looking to rent live streaming encoding systems for the Rugby World Cup 2019 in Japan, then please contact us for prices and to reserve units.