Amsterdam, Netherlands – 1 November 2018 - Soliton Systems has been named as the winner of the Airbus Critical Apps Challenge Belgium at the recent Astrid event in Brussels.
With their new Zao Android App, Soliton have developed an encrypted live streaming video app that can operate on the new Airbus Tactilon Dabat device. Airbus is a global leader in aeronautics, space and related services with their Defence and Space group as innovators in providing secure communication devices for government agencies that includes emergency services.
The Tactilon Dabat devices is the latest innovation for emergency services in that it combines a traditional TETRA radio used by emergency services, with a ruggedized smartphone that can use 4G for a variety of related data enabled applications.
Jacques Brancart, who is the Managing Director for the Proximus-Airbus consortium, explains further:
As we developed the Tactilon Dabat device, we were keen to work with partners who specialize in apps that can be utilized by emergency service workers to make their jobs more efficient and safer. As we see in the corporate world that the Smartphone has become the standard for everyday business apps, we also have the same vision for the communication device used by emergency workers - it should not be restricted to only voice communications. As an example, a law enforcement officer need not require many different gadgets if they can be all integrated into one tool.
Brancart continued "We decided upon the Critical App Challenge in Belgium to open up the floor to all our partners to show case an app that would benefit emergency services. We had a very large response to the competition with a shortlist of 5 that were selected to exhibit at the recent Astrid event in Brussels. The final winner was selected by the end user attendees at the show voting on their favorite app. We were delighted to announce Soliton as the winner with their encrypted live streaming app."
The 7th edition of the ASTRID User Days, held in Brussels on 3 and 4 October 2018, was a seminar and exhibition for public safety and security agencies with over 1500 people attending. ASTRID manages the voice and data communication network for all emergency and security services in Belgium.
The Zao Android App was developed by Soliton Systems to enable high quality and reliable encrypted live video streaming from both the integrated cameras on Tactilon Dabat device, even when there is low signal strength or congestion caused by many users.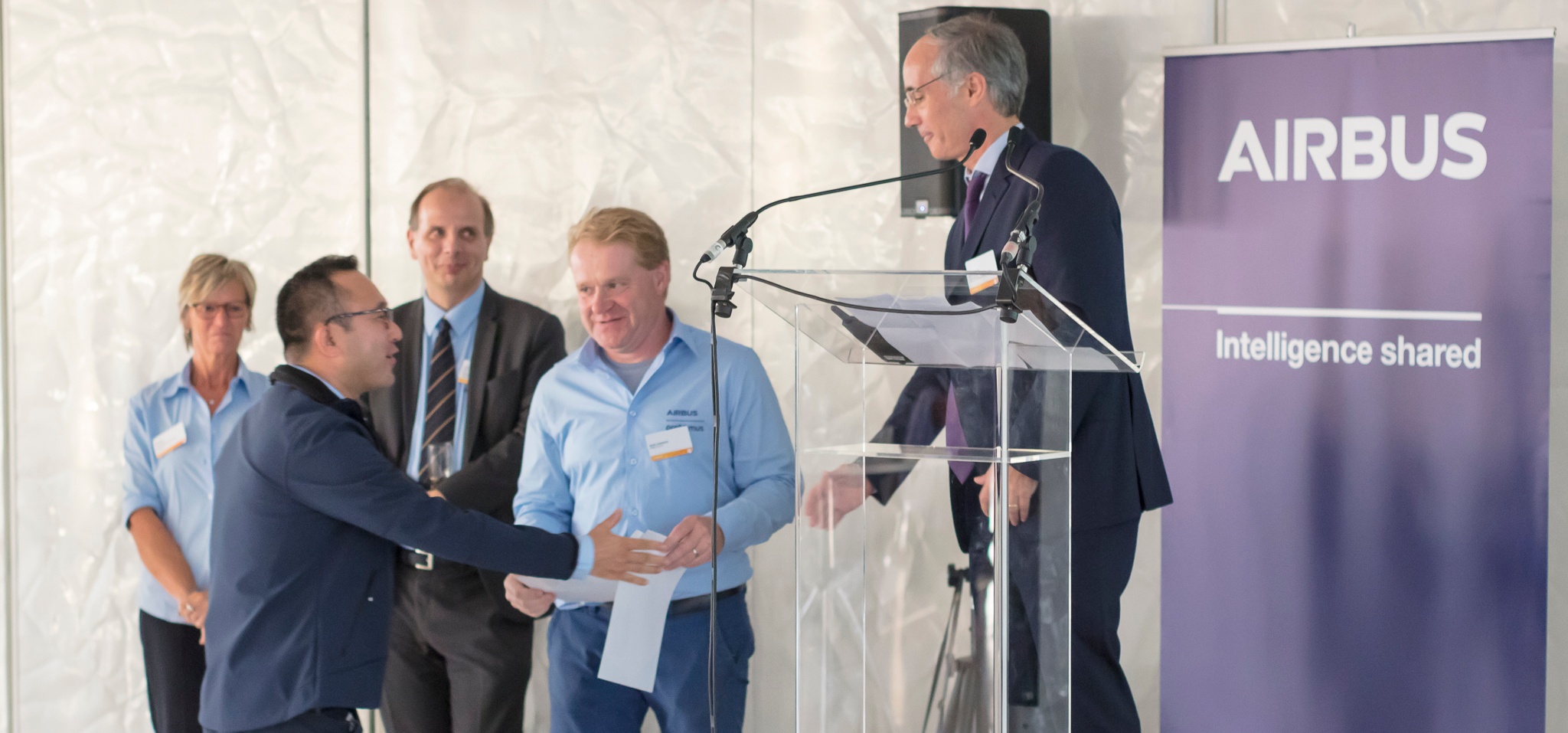 Eric Davlo , CTO of SLC Airbus makes the award
Shinya Hyakutake, Senior VP of Mobil Broadcasting from Soliton Systems said:
The app is very simple to use but it has a lot of rich features under the cover. We are both encrypting and compressing the video using the latest video compression of H.265 with the ability to quickly live stream to existing video management systems. These VMS systems are typically deployed in command and control centers and use a standard called ONVIF that we are compliant with. We have an innovative road map going forward and ultimately we see the ability for this app to both enhance and replace body worn cameras that are currently in use.
Video streaming for emergency services can provide a rich source of information for many different applications from live evidence gathering, facial recognition, GPS location, covert operations, special operations, public safety, resource planning, emergency first aid and mobile surveillance.
The other four shortlisted finalists for the critical app challenge was United Biometrics, Steerpath, NSION-Core and BIG.
About Soliton Systems: Soliton Systems, headquartered in Japan with offices in Europe, USA and China, manufacture a range of mobile video streaming, video encoding and security products. Their flagship product, the Zao Smart Telecaster, is in use by range of global broadcasters, news and sport production companies, and emergency service providers.
About Airbus: Secure Land Communications (SLC), an Airbus business unit, offers advanced communication and collaboration solutions to gather, process and deploy intelligence. Its portfolio is tailored to the needs of Public Safety, Defence and Transport, Utility and Industry (TUI). It includes infrastructures, devices, applications and services based on Tetra, Tetrapol and Broadband technologies (either single, hybrid or multi-technology solutions). As the European leader and a key international player, SLC has customers in more than 80 countries and employs around 1,150 people in 17 countries.
Soliton Systems Media Contact:
Anita Ghosh
Soliton Systems NV
Gustav Mahlerplein 2
1082MA Amsterdam.
Netherlands.
Tel +31 (0) 20 301 21 66
anita.ghosh@solitonsystems.com