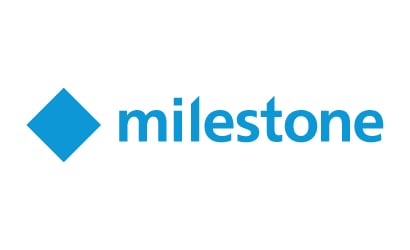 20 September 2018 – Amsterdam, Netherlands - Soliton Systems K.K, a Japanese technology company specialising in IT Security and Mobile Surveillance products, has successfully completed the certification of the Zao-S with Milestone's XProtect Video Management Platform.
Utilised on a global stage with many law enforcement, first responder and emergency services, Soliton Systems manufactures the "Smart-telecaster™ Zao-S", that allows instant encrypted video live streaming from remote mobile situations such as body worn actions cams, police surveillance vehicles, drones, helicopters and even in some cases live streaming from dogs. This is achievable by the miniature device utilising multiple 4G connections simultaneously to live stream video reliably back to a command centre.
The Zao-S, a lightweight yet powerful HEVC (H.265) mobile video transmission device, is used by many global law enforcement agencies and other public safety agencies to live stream for a variety of different applications such as public event surveillance, security, covert operations or live streaming from a body worn camera during police operations. In conjunction with Milestone's XProtect® VMS, it can be used to live stream high quality video that can then be displayed in real-time and recorded in the VMS environment with low latency and in full HD quality.
In addition to the Zao-S, Soliton have developed the "Zao Media Gateway" that is a receiving platform to recreate the H.265 stream from the multi-linked mobile networks and create IP video streams which for XProtect would be the H265/ONVIF over RTSP. The Zao Media Gateway can be operated in the cloud or in a customer's own network (on-premises) and is used to stream to the VMS platform, or it can live stream to any destination in the world as required including laptops, tablets and smartphones.
Regarding this partnership, Henrik Sydbo Hansen, Group Manager, Devices & Integrations commented as follows:
We are dedicated to working with partners in order to give our joint customers the perfect solution. At the same time we are delighted to expand our mobile solutions portfolio with a partner like Soliton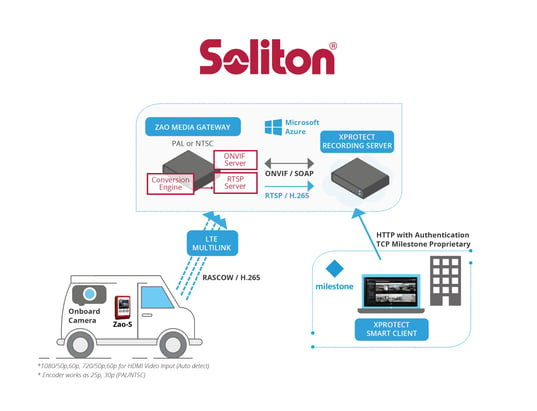 ONVIF/HEVC(H.265) Integration Image
The Zao-S can be used with many off-the-shelf action cameras or surveillance cameras that supports HDMI or SDI to live stream in full HD, with a latency typically of between 500ms to 1 second from the remote camera to the XProtect VMS back at a command centre.
Henrik Sydbo Hansen continues:
We see a rapidly raising interest for highly mobile solutions, and the open platform approach in XProtect, means that we can present more and more partners meeting this demand.
Official support begun end of August 2018 when the Soliton solution was included in Milestones XProtect device pack version 9.9.
About Milestone Systems
Milestone Systems is a leading provider of open platform video management software; technology that helps the world see how to ensure safety, protect assets and increase business efficiency. Milestone enables an open platform community that drives collaboration and innovation in the development and use of network video technology, with reliable and scalable solutions that are proven in more than 150,000 sites worldwide. Founded in 1998, Milestone is a stand-alone company in the Canon Group. For more information, see: www.milestonesys.com.
About Soliton Systems
Soliton System is Japanese technology company specialising in both outside broadcast solutions and IT Security Solutions. The Smart Telecaster range of products provides an H.265 encoding solution for live broadcasting, especially from remote places by being able to use 3G, 4G, LTE, WiFI, BGAN, BSAT and LAN connections to reliably stream high quality HD live video with minimal latency. Website: http://solitonsystems.com
Soliton Systems Media Contact:
Anita Ghosh
Soliton Systems NV
Gustav Mahlerplein 2
1082MA Amsterdam.
Netherlands.
Tel +31 (0) 20 301 21 66
anita.ghosh@solitonsystems.com