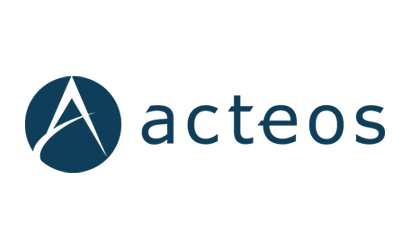 Amsterdam, Netherlands – 6th December 2017 – Acteos GmbH & Co. KG, specialising in Supply Chain Management software, as well as hardware and mobile data logging, renews its strategic partnership with Japanese IT security expert Soliton Systems.
Acteos and Soliton Systems
Businesses are still faced with the challenges of securing and protecting their data. Especially with the use of private devices such as smartphones, tablets, PCs, etc., it is becoming increasingly difficult to shield the sensitive company data and make it inaccessible to external users. Soliton's SecureContainer - DME solution can help. Easy to use via an app, users can access their password-protected workplace and do all the usual work in a secure environment.
Acteos and Soliton Systems are able to offer a diverse range of services and solutions in the area of data and IT security, which can complement and work together with all your in-house expertise and systems.
Promotion: Soliton NetAttest Lap One
To solidify the partnership, Acteos is supporting Soliton Systems in the promotion of the NetAttest Lap One. The NetAttest Lap One hardware detects and blocks unauthorized devices that want to connect to the company's network infrastructure. Companies can test the Plug and Play application in their specified environment for free, within a two-week trial period.
Sign up quickly for the free trial
About Soliton Systems: Soliton Systems, headquartered in Japan with offices in Europe, USA and China, has pioneered IT security solutions for protecting company data and the corporate network infrastructure from external security threats. We support organizations with their security management challenges, including authentication, secure browsing, mobile device security, endpoint security, cyber security and network security. Soliton Systems headquartered in Tokyo Japan with offices in Europe, USA and China.
Acteos GmbH & Co. KG - supplier for supply chain management software and mobility solutions
Acteos specializes in innovative, complete solutions in the field of SCM. The customer-oriented process optimization is the declared goal. Therefore, the range of services includes both individual consulting as well as the development and implementation of a user-specific system solution, depending on requirements, which can consist of software, hardware and a communication link. A wide range of services and maintenance completes the portfolio. The integration of Acteos solutions into the existing customer eco-system is possible at any time. Since 2000, the company has been a wholly owned subsidiary of the French-based, listed Acteos S.A.
For more information visit Acteos at www.acteos.de
Soliton Systems Media Contact:
Tirtza Richartz
Soliton Systems NV
Gustav Mahlerplein 2
1082MA Amsterdam
Netherlands.
Tel +31 (0) 20 301 21 66
mailto:tirtza.richartz@solitonsystems.com